09.12.2016 | Original Paper | Ausgabe 7/2017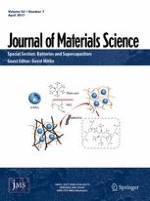 β-Cyclodextrin-grafted TEMPO-oxidized cellulose nanofibers for sustained release of essential oil
Zeitschrift:
Autoren:

Seema Saini, Deborah Quinot, Nathalie Lavoine, Mohamed Naceur Belgacem, Julien Bras
Abstract
The present investigation deals with the development and characterization of a new controlled release packaging system for food. Novel sustained system was developed by direct grafting of beta-cyclodextrin (βCD) on the carboxyl groups of TEMPO-oxidized cellulose nanofibers (TEMPO-CNF) in aqueous solution and without using any spacer. Carvacrol, an aromatic essential oil component, was then entrapped in the ensued CD-grafted TEMPO-CNF. Successful functionalization of TEMPO-CNF was confirmed by conductometric titration, Fourier Transform Infrared Spectroscopy, and gravimetric analyses. The βCD-grafted TEMPO-CNF films exhibited sustained release of carvacrol over 150 h before reaching the equilibrium in water. Antimicrobial activity of carvacrol against
Bacillus subtilis
was increased (or improved by 47 h) from 3 h when using TEMPO-CNF to around (or against) 50 h when using CD-grafted TEMPO-CNF. These promising results pave the way for the development of new bio-based controlled release packaging materials with efficient antibacterial activity.