03.04.2019 | Original Paper: Fundamentals of sol-gel and hybrid materials processing | Ausgabe 2/2019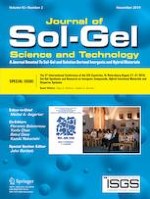 Сalculation of the main thermodynamic constants of beryllian indialite and the phases forming it in the sol-gel process
Zeitschrift:
Autoren:

Svetlana Mamontova, Sergey Zelentcov
Wichtige Hinweise
Publisher's note:
Springer Nature remains neutral with regard to jurisdictional claims in published maps and institutional affiliations.
Abstract
The main thermodynamic constants ΔН0298 (change in the enthalpy of formation) and S0298 (entropy), as well as the equation for the dependence of the heat capacity in the entire temperature range of existence were first obtained for the compounds with the β-quartz structure (PQS) and beryllian indialite (BI). The study samples were obtained by the sol-gel method from the solution of nitrates of beryllium, magnesium and aluminum and tetraethoxysilane. The calculated ratio of the components in the resulting MgO:BeO:Al2O3:SiO2 mixture was expected to be 2:1:1:6, respectively. The solid-phase synthesis included sintering the dry ground mixture in air and sampling at the crystallization temperature of the PQS and BI. With the physic-chemical analysis the traditional Babushkin method with the Taranenkova modification was used to account for the multi-component nature of the compounds. The thermodynamic analysis of both phases was accomplished with the scheme for a complex oxygen compound consisting of solid oxides, not having polymorphic transformations and melting congruently. The assumptions made do not contradict the data on the phase formation and thermometry in the phylogenetic series, their primary and final members being PQS and BI. The obtained data are appropriate for correct tetrahedration of the BeO–MgO–Al2O3–SiO2 system, and for calculating the probability of the formation of its phases.
×