2016 | OriginalPaper | Buchkapitel
1 The Structure Theory of Finite Monoids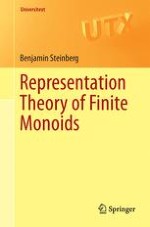 Autor: Benjamin Steinberg
Abstract
This chapter contains those elements of the structure theory of finite monoids that we shall need for the remaining chapters. It also establishes some notation that will be used throughout. More detailed sources for finite semigroup theory include [
KRT68
,
Eil76
,
Lal79
,
Alm94
,
RS09
]. Introductory books on the algebraic theory of semigroups, in general, are [
CP61
,
CP67
,
Hig92
,
How95
]. A detailed study of some of the most important transformation monoids can be found in [
GM09
]. In this book, all semigroups and monoids will be finite except for endomorphism monoids of vector spaces and free monoids. On a first reading, it may be advisable to skip the proofs in this chapter.