01.04.2010 | Ausgabe 2/2010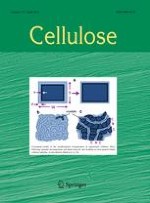 2,3-
O

-Methyl cellulose: studies on synthesis and structure characterization
Zeitschrift:
Autoren:

Katrin Petzold-Welcke, Manuela Kötteritzsch, Thomas Heinze
Abstract
The synthesis of methyl celluloses with a regioselective functionalization in position 2 and 3 starting from trityl cellulose is described. The effects of methylation conditions upon the degree of substitution (DS) and the distribution of the methyl moieties were investigated in detail. The synthesis was focused on products with a DS < 2. The methyl celluloses were characterized by one and two dimensional NMR spectroscopy in order to determine the substitution pattern and quantify the fractions of the different repeating units, i.e., 2,3-di-
O
-, 2-mono-
O
-, 3-mono-
O
-methyl units, and non-methylated anhydroglucose units.