01.09.2016 | Thematic Issue | Ausgabe 18/2016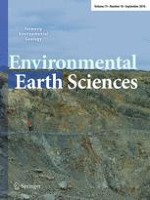 2 m survey method and its improved device application in Dongshan geothermal field in Xiamen in China
Zeitschrift:
Autoren:

Yanjun Zhang, Yangyang Xie, Tong Zhang, Tong Liu, Chi Zhang
Wichtige Hinweise
This article is part of a Topical Collection in Environmental Earth Sciences on "Subsurface Energy Storage II", guest edited by Zhonghe Pang, Yanlong Kong, Haibing Shao, and Olaf Kolditz.
Abstract
Preliminary geothermal surveys to identify areas of potential geothermal anomalies are the most important stage in traditional hydrothermal-type geothermal resource exploration procedures. Temperature gradient wells are limited because of their accessibility issues and high costs, whereas the 2 m survey is considered a rapid, efficient, and inexpensive method to measure temperature accurately and allow for rapid vectoring toward geothermal anomalies in cases where thermal groundwater is not overlain by near-surface cold aquifers. An improved quick and portable measurement device is developed that adds in situ thermal conductivity tests based on temperature. The device, which is easy to assemble, portable, and suitable for two or three people in field work, had been calibrated by laboratory experiments. The device was applied in Dongshan geothermal field, Xiamen City in China, and 18 measurement positions were arranged. Results clearly described the geothermal anomalies in the area and revealed two temperature anomaly centers, namely a strong one in the eastern area and a weak one in the western area. Moreover, a speculated fault provided a hydraulic connection between the eastern and western areas. According to the 2 m survey, a steady-state heat conduction model has been used to inverse the 20 m temperature. The average temperature error of all boreholes in 20 m is 3 °C, whereas the relative errors between actual and forecast values are less than 10 %. Therefore, the 2 m survey method and improved device shows good performance in preliminary geothermal surveys.