Erschienen in: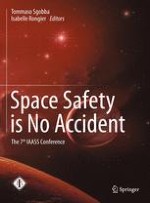 2015 | OriginalPaper | Buchkapitel
30 Years of Space Debris Mitigation Guidelines in Europe
Abstract
The space debris issue was not immediately identified in the beginnings of the space conquest: the main risks seemed to come from meteorites. The early returns of spacecraft on Earth revealed small size impacts by non-natural particles. The link was quickly established with several in-orbit explosions of launcher upper stages that generated these objects. Under NASA leadership the first passivation measures have successfully been applied to deal with this situation. This led to the NASA standard containing the first preventive measures.
For its part, Europe began to implement mitigation measures as early as 1983 when performing the end of life operations of the Symphonie A and B satellites, and was later faced with the in-orbit explosion of an Ariane upper stage in 1986. This situation pushed the CNES to develop its own standard on space debris derived from the NASA standard. The work in this context was then extended to the main European partners: 5 space agencies, ASI, BNSC, CNES, DLR and ESA formed a working group to develop the technical content of preventive measures. After extensive discussions this work finally resulted in the publication of the EDMS (European Debris Mitigation Standard) and later of the CoC (Code of Conduct on space debris mitigation) in 2004.
In 1993 the debris subject became truly international with the establishment of the IADC (Inter Agency Space Debris Coordination Committee) and with the start of activities in the frame of the United Nations Scientific and Technical Subcommittee of the COPUOS (Committee on Peaceful Uses of Outer Space). Two major documents have materialized this work: in 2002 the IADC Mitigation Guidelines were published and the high level principles of COPUOS in 2007. These documents are still the technical and political bases of all regulations. In parallel, the ISO has developed, with strong involvement of European partners, a set of detailed standards on space debris to facilitate their application by manufacturers and operators.
These measures have initially been applied on a voluntary basis by space agencies and by some operators. However, according to the Treaties of the United Nations, States are responsible for activities conducted in space by their operators. This led to the establishment of national regulatory regimes in some countries as the licensing systems in the U.S and in UK or the Space Operations Act in France.