2018 | OriginalPaper | Buchkapitel
3D Documentation and Visualization of the Forum Romanum: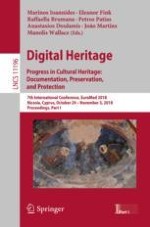 Erstes Kapitel lesen
The DHARMA Forum Project
Autor: Krupali Krusche
Abstract
Documenting large scale sites like the Roman Forum, in Rome, Italy can become a mammoth task. While there is a set methodology for traditional documentation of large sites, as the one developed by Giacomo Boni in the early 1900's, there is very little standardization in the field of digital documentation and cataloguing or making the digital data user friendly for various purposes of conservation of large site. This paper presents the methodology and techniques used by the University of Notre Dame School of Architecture DHARMA team to digitally document for the first time the Forum Romanum, Rome, Italy between 2010 till 2015.
The complexity of site, terrain, and the data to be collected, were supported through three major segments that can be useful for any on-site documentation project. These include (1) Pre-site, (2) On-site and (3) Post-site methods. Employing a comprehensive approach—including 3-D laser scanning, hand measuring, photogrammmetry, and Gigapan technology—the team thoroughly documented the current state of this World Heritage site. Laser scanning was central to this effort, and the details of its implementation contributed to time and terrain effective methods are discussed in this paper. The team working on this project included architects, archeologists, computer engineers and students from various disciplines.
The team's post-site production efforts resulted, most notably, in a highly-accurate point cloud model that can be manipulated for various educational and scholarly uses. These were further transformed to create user friendly outputs including 2D drawings and 3D visuals comprising a 3D app.
As many scholars from different disciplines get involved in the field of digital documentation, it becomes increasingly important to create a methodology of operation that can be described as best practices in the field for large scale sites of great historical value. This study takes the knowledge known in our field over centuries and combines the results of latest technologies to get us the best of both worlds.