2018 | OriginalPaper | Buchkapitel
3D Indoor Environment Modeling and Detection of Moving Object and Scene Understanding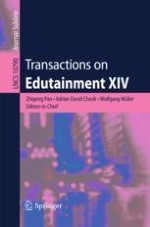 Erstes Kapitel lesen
Autoren: Bin Shao, Zhimin Yan
Verlag: Springer Berlin Heidelberg
Abstract
Obtaining large-scale outdoor city environment is a mature technique, supporting many applications, such as search, navigation, etc. The indoor environment with same complexity often contains high density duplicate objects (e.g. table, chair, display, etc.). In this paper, special structure of indoor environment was applied to accelerate home video camera to conduct 3D collection and identification of indoor environment. There are two stages of this method: (i) Learning stage, gain three-dimensional model of objects which occurs frequently and variation pattern with only few scanning capture, (ii) identification stage, determine the objects which had been seen before but in different gestures and positions from the single scanning of a new field, which greatly accelerate identification process.
In addition, under indoor environment, detection of moving objects, such as lighting change, is also arduous task. Basic histons and histons roughness index (HRI) related to it have been reported by literature. It has impressive achievement for the segmentation of still image. We expand histons definition to 3D histons and consider the combined mode of the whole color plane, but not to consider single color plane. Besides, bring fuzziness into 3D HRI measurement. Move the object in accordance with the concept of rough set theory, change background gradually or set dynamic background as background, and pixel labeled at the same time won't let the objects that move slowly bring into background model.
Common home video camera was used to obtain typical area of a university construction, including classroom and laboratory, to prove result of the method we adopted, by qualitative and quantitative analysis, was satisfying.