01.04.2014 | Ausgabe 4/2014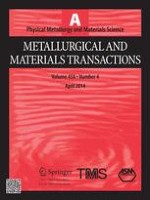 3D Quantitative Characterization of Rapidly Solidified Al-36 Wt Pct Ni
Zeitschrift:
Autoren:

Arash Ilbagi, Hani Henein
Wichtige Hinweise
Manuscript submitted February 22, 2013.
Abstract
The rapid solidification of a peritectic alloy is studied. Various 2D and 3D characterization techniques were effectively utilized to investigate the effect of cooling rate on both the phase fractions and the shrinkage porosity. Particles of Al-36 wt pct Ni were produced using a drop tube impulse system. Neutron diffraction and Rietveld analysis were used to quantify the phases formed during solidification. The microstructure of the produced particles was analyzed using SEM and X-ray microtomography. It was found that increasing cooling rate resulted in decreasing the Al3Ni2 to Al3Ni ratio. Also, quantitative analysis of the microtomography images revealed that the volume percent of porosity increased with increasing particle size. The distribution of porosity was found to be significantly different in small and large particles. It was concluded that the extensive growth of Al3Ni2 at lower cooling rates followed by the peritectic reaction made the feeding of the shrinkages more difficult, and as a result, the volume percent of porosity increased. Other findings showed that high cooling rate during solidification would result in the formation of a quasicrystalline phase, known as D-phase, and suppression of the primary Al3Ni2. Also, investigation of the 3D structure of the solidified particles revealed that large particles of Al-36 wt pct Ni contain multiple nucleation sites, while smaller particles contain only one single nucleation site.