01.09.2019 | Original Article | Ausgabe 17/2019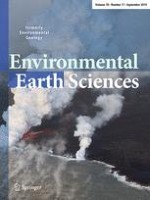 3D scene reconstruction of landslide topography based on data fusion between laser point cloud and UAV image
Zeitschrift:
Autoren:

Haowei Ji, Xianqi Luo
Wichtige Hinweise
Publisher's Note
Springer Nature remains neutral with regard to jurisdictional claims in published maps and institutional affiliations.
Abstract
The main topic of this research was to propose an optimizing modeling method of landslide topography. This method fuses high-resolution imagery from an unmanned aerial vehicle (UAV) with laser point cloud. Due to the relatively high efficiency and large coverage area, the UAV system is suitable for emergency investigation of landslide. Based on the UAV images and laser point cloud, the use of partial differential equation (PDE) combines the hole repair technology with non-uniform rational B-splines (NURBS) method to rapidly reconstruct a three-dimensional (3D) scene. The mean square error (MSE) determined by comparison with measured data from the laser scanner technology is 16.1274 mm. And the error of plane calculated by the NURBS surface fitting is smallest by comparing with the least-squares plane fitting, Delaunay triangulation and polygon mesh method. In addition, the realistic 3D landslide model is obtained by texture mapping. The XiaPa landslide in Liangshan District, Xichang City, Sichuan Province China, was selected as a case study, in which the accuracy is evaluated to prove that the model has higher precision than traditional methods. The experiment results show that the integrated approach in this paper could be implemented in qualitative and quantitative risk assessment procedures pertaining to landslides.