30.10.2019 | Methodologies and Application | Ausgabe 13/2020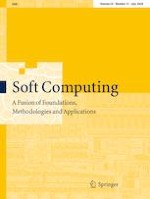 5GAuNetS: an autonomous 5G network selection framework for Industry 4.0
Zeitschrift:
Autoren:

Bhanu Priya, Jyoteesh Malhotra
Wichtige Hinweise
Publisher's Note
Springer Nature remains neutral with regard to jurisdictional claims in published maps and institutional affiliations.
Abstract
The megatrends within the industrial automation and global value chains expedited the adoption of "Industry 4.0 enabled by 5G" to comprehend extremely flexible and smart production systems. The pivotal challenge for the smart manufacturing leveraging on 5G is the seamless vertical handover and connectivity to a suitable network in accordance with the determined application. The existing literature reports numerous strategies to ensure "always best connected" paradigm but they suffer from a couple of limitations. The amateurish approach employed in these strategies propelled the development of an autonomous network selection model exploiting fuzzy analytical hierarchical process consolidated with the novel extended efficacy coefficient method-based Technique for Order Preference by Similarity to Ideal Solution. This article addresses the vertical handover execution under the circumstances of four typical 5G application scenarios, respectively, i.e. Tactile Internet, Bitpipe, Internet of Things and Internet Access for Regional Areas. The analytical results validated through the extensive simulation revealed that the proposed hybrid scheme is effective and efficient compared to other methods in terms of avoiding the unnecessary handover and the ranking abnormality issues.