2016 | OriginalPaper | Buchkapitel
A Black-Box Construction of Strongly Unforgeable Signature Schemes in the Bounded Leakage Model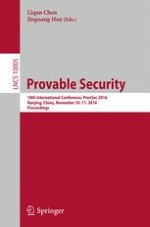 Erstes Kapitel lesen
Autoren: Jianye Huang, Qiong Huang, Chunhua Pan
Abstract
Due to the imperfect implementation of cryptosystems, adversaries are able to obtain secret state of the systems via
side-channel attacks
which are not considered in the traditional security notions of cryptographic primitives, and thus break their security. Leakage-resilient cryptography was proposed to prevent adversaries from doing so. Katz
et al.
and Boyle
et al.
proposed signature schemes which are existentially unforgeable in the bounded leakage model. However, neither takes measures to prevent the adversary from forging on messages that have been signed before. Recently, Wang
et al.
showed that any signature scheme can be transformed to one that is strongly unforgeable in the leakage environment with the help of a leakage-resilient chameleon hash function. However, their transformation requires changing the key pair of the signature scheme.
In this work, we further improve Wang
et al.
's results by proposing a black-box construction of signature schemes, which converts a leakage-resilient signature scheme to one that is both strongly unforgeable and leakage resilient. Our construction does not require adding any element to the signature key pair nor modify the signature scheme at all. It is efficient in the sense that the resulting signature scheme has almost the same computational cost in signing and verification as the underlying scheme.