2017 | OriginalPaper | Buchkapitel
3. A Brutal Snapping of the Anglo-New Zealand Nexus?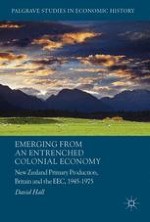 Erstes Kapitel lesen
Autor: David Hall
Abstract
Chapter 3 reviews changes in the trade relationship between New Zealand and Britain caused by Britain's engagement with the European Economic Community (EEC). The formation of the EEC in 1955 gave Britain a dilemma; it could join only by reducing or abandoning the Imperial Preference arrangements with Commonwealth countries. The dilemma was first put to one side by Britain standing aloof from the developments in Continental Europe but eventually economic pressures forced Britain to investigate whether a compromise might be possible. It was into the 1970s before a compromise was found with special arrangements being agreed for New Zealand. There are multiple interpretations of the economic impact of those arrangements and those are reviewed concluding that the impact was emotional rather than economic.