01.02.2013 | Ausgabe 1/2013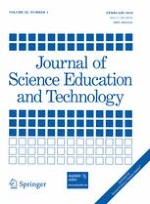 A Case Study of the Alignment between Curriculum and Assessment in the New York State Earth Science Standards-Based System
Zeitschrift:
Autor:

Julie Contino
Abstract
In a standards-based system, it is important for all components of the system to align in order to achieve the intended goals. No Child Left Behind law mandates that assessments be fully aligned with state standards, be valid, reliable and fair, be reported to all stakeholders, and provide evidence that all students in the state are meeting the standards. This study reports an analysis of the alignment between the
National Science Education Standards
(NSES), New York State
Physical Setting/Earth Science Core Curriculum
(Core Curriculum) and New York State
Physical Setting/Earth Science Regents Examination
(Regents Exam)—the sources teachers use for creating Earth Science curricula in New York State. The NSES were found to have a 49 % overlap with the Core Curriculum and a 27 % overlap with the Regents Exam. The Core Curriculum and Regents Exam, represented by matrices consisting of performance indicators and cognitive demands, were compared using the Porter Alignment Index. The alignment was 0.35, categorized as slightly aligned, due to the different emphases on cognitive levels. The Core focused on cognitive skills of Understand and Apply while the Regents concentrated more on Apply followed by Understand and Remember. It is suggested that the NSES be revised and the Core updated to include quantifiable emphasis on the major understandings such as percentage of time.