2013 | OriginalPaper | Buchkapitel
A Climate and Health Partnership to Inform the Prevention and Control of Meningoccocal Meningitis in Sub-Saharan Africa: The MERIT Initiative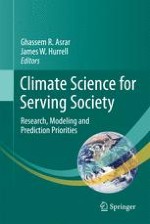 Erstes Kapitel lesen
Autoren: Madeleine C. Thomson, E. Firth, M. Jancloes, A. Mihretie, M. Onoda, S. Nickovic, H. Broutin, S. Sow, W. Perea, E. Bertherat, S. Hugonnet
Verlag: Springer Netherlands
Abstract
Many human diseases are climate-sensitive: climate acting as an important driver of spatial and seasonal patterns, year-to-year variations (including epidemics), and longer-term trends. Although climate is only one of the many drivers of both infectious and non-infectious disease, public health policy makers and practitioners are increasingly concerned about the potential impact of climate change on the health of populations.
The MERIT Initiative was launched in 2007 to provide a platform for enabling health specialists (public health specialists, epidemiologists, immunologists, microbiologists, demographers, etc.) and climate and environment specialists to work together to help solve a pressing health problem. The main objective of the initiative is to address meningococcal meningitis epidemics in Africa in the context of perceived environmental, biological, economic and demographic influences. The effort is designed to create new knowledge that can be used to improve the current (reactive) and future (preventive) vaccination strategies.
Preliminary results of this research to policy and practice consortium have advanced the understanding of how climate-related information can be tailored to inform and, where possible, strengthen public health decisions. Specifically, the MERIT experience to date indicates new evidence on the contribution that climate and environment make to the spatio-temporal distribution of meningococcal meningitis and demonstrates a multi-sectoral strategic approach to the creation of evidence, together with the development of a cumulative knowledge base. The MERIT Initiative is establishing an effective means for the dissemination of new knowledge and provides a platform to facilitate access to this knowledge by public health practitioners. These developments, along with an increase in the uptake of evidence in both policy and practice have the potential to impact health outcomes in vulnerable at-risk populations in Africa's Meningitis Belt.
The collaborative partnership model of MERIT provides an innovative framework to support public health preparedness and control strategies for climate sensitive diseases. Public health decision-makers have been willing to explore unfamiliar territory and opportunities for improving well-established control strategies by leveraging new knowledge and expertise from other disciplinary communities including climate and environmental researchers. Equally important have been the investments made by a multi-disciplinary research and practice community to adapt research projects in line with the evolving public health strategy across the Meningitis Belt. The lessons learned from the MERIT project offer valuable input and new ideas for improving global public health strategies for other climate and environmentally sensitive epidemic prone diseases.