21.09.2019 | Methodologies and Application | Ausgabe 10/2020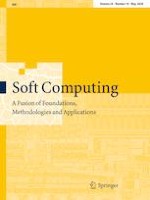 A co-evolutionary hybrid decomposition-based algorithm for bi-level combinatorial optimization problems
Zeitschrift:
Autoren:

Abir Chaabani, Slim Bechikh, Lamjed Ben Said
Wichtige Hinweise
Publisher's Note
Springer Nature remains neutral with regard to jurisdictional claims in published maps and institutional affiliations.
Abstract
Bi-level programming problems are a special class of optimization problems with two levels of optimization tasks. These problems have been widely studied in the literature and often appear in many practical problem solving tasks. Although many applications fit the bi-level framework, however, real-life implementations are scarce, due mainly to the lack of efficient algorithms able to handle effectively this NP-hard problem. Several solution approaches have been proposed to solve these problems; however, most of them are restricted to the continuous case. Motivated by this observation, we have recently proposed a Co-evolutionary Decomposition-based Algorithm (CODBA) to solve bi-level combinatorial problems. CODBA scheme has been able to bring down the computational expense significantly as compared to other competitive approaches within this research area. In this paper, we further improve CODBA approach by incorporating a local search procedure to make the search process more efficient. The proposed extension called CODBA-LS includes a variable neighborhood search to the lower-level task to help in faster convergence of the algorithm. Further experimental tests based on the bi-level production–distribution problems in supply chain management model on a set of artificial and real-life data turned out to be effective on both computation time and solution quality.