2018 | OriginalPaper | Buchkapitel
A Collective Adaptive Socio-Technical System for Remote- and Self-supervised Exercise in the Treatment of Intermittent Claudication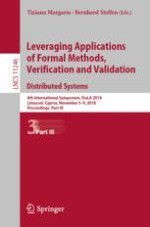 Erstes Kapitel lesen
Autoren: Jeremy Pitt, Kristina Milanovic, Alexander Coupland, Tim Allan, Alun Davies, Tristan Lane, Anna Maria Malagoni, Ankur Thapar, Joseph Shalhoub
Abstract
Vascular surgeons have recognised that the condition of many patients presenting with intermittent claudication and peripheral arterial disease is better treated by physical exercise rather than endovascular or surgical intervention. Such exercise causes pain, though, before and until the health improvements are realised. Therefore, patients experiencing pain tend to stop doing that which causes it, unless they are supervised performing the necessary exercise programmes. However, supervised exercise is an extremely costly and time-consuming use of medical resources.
To overcome this series of problems, we propose to develop and deploy a healthcare application which provides patient exercise programmes that are
both
centrally organised and remotely supervised by a health practitioner,
and
self-organized and self-supervised by the patients themselves. This demands that two dimensions of adaptation should be addressed: adaptation prompted by the health practitioner as the patient group improves and meets programme targets; and adaptation prompted from within the patient group enabling them to manage their own community effectively and sustainably.
This position paper explores this application from the perspective of engineering a collective adaptive system for a mobile healthcare application, providing both remote- and self-supervised exercise. This requires, on the one hand, converging recent technological advances in sensors and mobile devices, audio and video connectivity, and social computing; with, on the other hand, innovative value-sensitive and user-centric design methodologies, together with formal methods for interaction and interface design and specification. The ultimate ambition is to create a 'win-win-win' situation in which the benefits of exercise as a treatment, the reduced costs of supervision, and the pro-social incentives to perform the exercise are all derived from computer-supported self-organised collective action.