01.09.2012 | Original Paper | Ausgabe 10/2012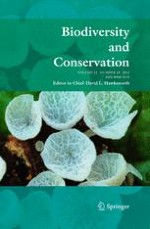 A comparative analysis of global, national, and state red lists for threatened amphibians in Brazil
Zeitschrift:
Autoren:

Alessandro R. Morais, Rosana Talita Braga, Rogério P. Bastos, Daniel Brito
Abstract
The knowledge about the conservation status of species is an important data for conservation biology. Therefore, threatened species lists are a powerful tool for conservation planning and prioritization. Our objective is to compare the global, the national and state red lists of amphibians in Brazil. Threatened species were categorized according to their listing in one or several of these lists. We analyzed for true inconsistencies across lists in order to evaluate practical consequences of such incongruences on amphibian conservation in Brazil. We recorded a total of 61 threatened amphibian species in Brazil (across all red lists). Only one species,
Phrynomedusa fimbriata
, was listed as Extinct (both in IUCN, Brazil and São Paulo lists). A total of eleven endemic species are listed as threatened by the global red list, but do not appear in Brazil's national red list, which represent an inconsistence among these lists. Besides that, the threat category of
Thoropa lutzi
and
Thoropa petropolitana
, two endemic species, differ among both lists, which also represents a problem between both lists. These mismatches may be due to several reasons such as different interpretation of the criteria; different methodologies used; different data availability on species; differences in the dates of assessments processes; the assessors' attitudes to uncertainty; outdated red lists. Harmonization among red lists permits a better picture of threatened amphibian diversity across scales and to develop global, national and state plans to complement conservation actions in order to maximize the chance of success of these initiatives.