11.07.2017 | Methodologies and Application | Ausgabe 19/2018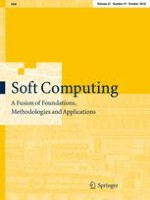 A competent three-tier fuzzy cluster algorithm for enhanced data transmission in cluster EAACK MANETs
Zeitschrift:
Autoren:

J. Sathiamoorthy, B. Ramakrishnan
Abstract
Security is a major issue that is being constantly addressed in infrastructure less networks. An ad hoc network like MANET faces several issues that can jeopardize the transmissions in the network. A MANET can be made manageable by clustering it and appointing a cluster head. The cluster head communicates with the other cluster heads through base station. The cluster head routes all traffic from its members with the help of the base station, both within and outside the cluster. Several schemes have been suggested to find and eliminate malicious nodes that may hinder transmission. However, when the cluster member or the cluster head turns malicious, it may damage the transmission by tampering with the data and the routing policies. Though the security schemes target the nodes, they do not have specific techniques to handle a situation where the cluster member and cluster head turn malicious. Because of the constraints prevalent in the election of the cluster head and the selection of the cluster member, an intruder can penetrate and be elected as the cluster head or a member. Our proposed approach tries to counteract this situation by using a two-phase approach. The first phase uses fuzzy rules to form clusters and the second phase uses an efficient three-tier filtering methodology to identify the reliable nodes within the network. For the clustering process, a modified fuzzy
C
-means clustering algorithm (MFCM) is used to form the clusters. The three-tier filtering methodology decides the authenticity of the nodes by using an efficient filtering process. Our proposed technique can assure a better performance and enhanced throughput when compared to the existing techniques of EAACK.