15.06.2019 | Ausgabe 14/2019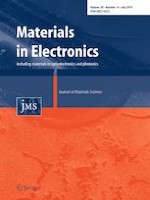 A comprehensive study of high-performance of flexible transparent conductive silver nanowire films
Autoren:

Y. H. Wang, X. Yang, D. X. Du, X. F. Zhang
Wichtige Hinweise
Publisher's Note
Springer Nature remains neutral with regard to jurisdictional claims in published maps and institutional affiliations.
Abstract
In this paper, we systematically investigated the effects of concentration and amount of silver nanowires (AgNWs) suspension on the optoelectronic properties and microstructures of flexible transparent conductive films (FTCFs) composed of AgNWs with an average diameter of about 25 nm and length of 15.5 μm. AgNW–FTCFs were prepared on polyethylene terephthalate substrates using a Meyer rod and then dried in the ambient environment. The experimental results reveal that with increasing of the concentration and amount of AgNWs the sheet resistance and non-uniformity factor (
NUF
) of the sheet resistance and the transmittance of AgNW–FTCFs decreased. while, the root mean square roughness (
RMS
) and the haze value of the AgNW–FTCFs increased. The AgNWs suspension with low concentration and high amount is beneficial to obtain the high-performance conductive film prepared using Meyer rod. The fabricated film exhibit a sheet resistance of 502–38 Ω sq
−1
and a
NUF
of the sheet resistance of 0.7–0.2% and a haze of 0.77–1.0% at a transmittance of 90–95% and
RMS
value of 11.0–13.1 nm. These
RMS
values are low approximately the diameter of a nanowire. These results are attributed to the good morphology of and uniform distribution of AgNWs.