01.01.2015 | Ausgabe 1/2015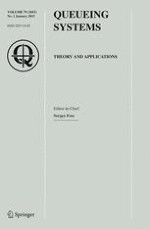 A Computational approach to optimized appointment scheduling
Zeitschrift:
Autoren:

Alex Kuiper, Benjamin Kemper, Michel Mandjes
Abstract
Appointment scheduling is prevalent in various healthcare settings. Generally, the objective is to determine a
schedule
(i.e., the sequence of epochs at which the individual patients are asked to appear) that appropriately balances the interests of the patients (low waiting times) and the medical staff (low idle times). In queueing language, the planner is given the distributions of the service times of the individual clients, and then it is his task to determine the arrival epochs of the clients. In this paper, we demonstrate how to generate schedules that have certain optimality properties. As a general principle, we express the performance of a schedule in terms of its associated utility, which incorporates both waiting times and idle times. In a first class of schedules (referred to as the
simultaneous approach
), the arrival epochs are chosen such that the sum of the utilities of all clients as well as the service provider is minimized. In a second class (
sequential approach
), the arrival epoch of the next client is scheduled, given the scheduled arrival epochs of all previous clients. For general service times the numerical evaluation of the optimal schedules is often prohibitive; it essentially requires knowledge of the waiting-time distribution in an appropriately chosen D/G/1 queue. In this paper, we demonstrate that by using the phase-type counterparts of the service-time distributions, it is feasible to efficiently determine an optimized schedule, that is, we obtain accurate results with low computational effort. We do so both for transient scenarios (in which the number of clients is relatively low, so that the interarrival time is not uniform) and stationary scenarios (with many clients, and essentially constant interarrival times). Our approach is backed by several examples, that give insight in the impact of the variability of the service times on the schedule; it also shows the impact of the utility function selected.