2006 | OriginalPaper | Buchkapitel
A Computational Study on Functionally Graded Rotating Solid Shafts: Analysis of Preliminary Results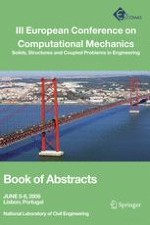 Erstes Kapitel lesen
Autoren: Hakan Argeso, Ahmet N. Eraslan
Verlag: Springer Netherlands
A computational model is developed for the analysis of elastic, partially plastic and residual stress states in functionally graded (FGM) rotating solid shafts. The modulus of elasticity, Poisson's ratio, uniaxial yield limit and density of the shaft material are assumed to vary radially in any prescribed functional form. Small deformations, sufficiently long shaft, and a state of generalized plane strain are presumed. Using the von Mises yield criterion, total deformation theory and a Swift-type nonlinear hardening law, a single nonlinear equation describing elastoplastic behavior of rotating shafts is obtained. A shooting technique using Newton iterations with numerically approximated tangents is designed and used for the computer solution of the governing equation. The model is verified comprehensively by comparing predictions with (i) analytical elastic solutions of homogeneous shafts and (ii) elastoplastic solutions of homogeneous shafts available in the literature.
Figure 1.
Stresses in a partially plastic rotating FGM solid shaft.
Figure 1. Stresses in a partially plastic rotating FGM solid shaft.
Using linear variation as much as 10% for each of the material parameters, the partially plastic stress state for a rotating FGM solid shaft with axially unrestricted ends and traction free surface is computed and displayed in Fig. 1. Formal dimensionless variables are used in drawing this figure. Depending on how the material properties vary in the shaft, plasticization may commence somewhere inside the FGM shaft and the plastic ring expands in both radial directions with increasing angular speeds. It is noted that this behavior is never observed for homogeneous shafts. As shown in Fig. 1, at the speed of rotation considered, the shaft is composed of a plastic region in ep r r ≤ ≤ 0, and an elastic region in 1 ≤ ≤ r rep. The plastic-elastic border ep r is expected to move toward the edge if the rotation speed is increased further.