2019 | OriginalPaper | Buchkapitel Open Access
13. A Conceptual Model of Planned Adaptation (PA)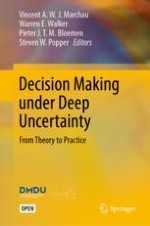 Autor: Jesse Sowell
Abstract
Technical and operational systems, especially large complex socio-technical systems, must continuously adapt to a changing context.

Conventional rulemaking systems have, historically, been ponderous. Low clockspeed rulemaking systems are rarely equipped to keep pace when applied to govern higher clockspeed socio-technical systems.

This chapter presents and characterizes four organizational complexes that have effectively implemented 'planned adaptation'.

Based on these cases, an initial general model of planned adaptation is presented: first, in terms of the first principles of where in the rulemaking system adaptation may be introduced; second, in terms of categories of events and triggers; and finally, in terms of the evaluative capabilities and capacities within and across organizations necessary to systematically plan to adapt.

This general model (which can more generally be termed

systematic adaptation

) characterizes ad hoc adaptation,

planned

adaptation, as well as

ideal forms

of adaptation. These are used as comparators in what is referred to here as the 'systematic adaptation space'.

Discussion of four cases based on this model highlight instances of critical paths from ad hoc to

planned

adaptation, offering early insights that can lead to effectively designing organizational complexes that can effectively plan to adapt.

The chapter concludes with a discussion of ongoing work—in particular, how this model will be used for theory-based sampling to identify cases of adaptation that can be used to further refine the model and its application to systematic adaptation by design.