05.04.2019 | Materials for life sciences | Ausgabe 13/2019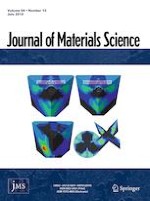 A doxorubicin and vincristine drug release system based on magnetic PLGA microspheres prepared by coaxial electrospray
Zeitschrift:
Autoren:

Yajun Tang, He Zhao, Jihang Yao, Zhenhua Zhu, Dahui Sun, Mei Zhang
Wichtige Hinweise
Electronic supplementary material
Publisher's Note
Springer Nature remains neutral with regard to jurisdictional claims in published maps and institutional affiliations.
Abstract
In this study, we demonstrated a novel doxorubicin and vincristine-loaded PLGA magnetic microspheres prepared by coaxial electrospray, as a drug delivery system for osteosarcoma treatment. The results showed that microspheres had an minimum mean diameter of 0.32 ± 0.25 μm and exhibited a spherical shape. The particle size distribution changed obviously with the different dosing ways. The entrapment efficiency was found to be 65.72, 73.6 and 74.14% for different microspheres. In vitro degradation research showed that circular pores appeared gradually on the surface of particles with the increase in time, which accelerated the degradation of microspheres. CCK-8 test showed that the Fe3O4@PLGA microspheres without drug loading had almost no side effects, the cytotoxicity of Fe3O4@P/(V + D), Fe3O4@(P + D)/V and Fe3O4@(P + V)/D microspheres increased in turn, and Fe3O4@(P + V)/D microspheres with minimum particle size could significantly arrest the growth of osteosarcoma saos-2 cells. Therefore, the drug-loaded magnetic microspheres have good killing effect on osteosarcoma cell lines, which can be used as an ideal targeting treatment for postoperative adjuvant therapy of osteosarcoma.