01.03.2015 | Ausgabe 2/2015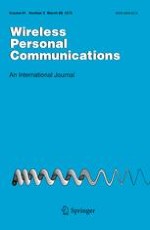 A Energy-Polarization Based Detection for Cognitive Radios
Zeitschrift:
Autor:

Caili Guo
Abstract
In this paper, we consider the problem of spectrum sensing in cognitive radios by exploring
Stokes sub-vector
, which fully represents energy and polarization information of signal, captured by dual polarized antennas. We first find the fact that the correlation between Stokes variables (i.e., the elements of
Stokes sub-vector
) of the mixture of primary signal and noise are different from that of noise's with high probability. Based on this, a new energy-polarization based detection is proposed. The false alarm probability and the detection threshold for the proposed detector are available in closed form. Our simulations show that the proposed method demonstrates a significant performance improvement with respect to existing polarization based methods due to the exploitation of both energy and polarization information and less affectedness by noise power uncertainty.