11.06.2018 | Original Paper | Ausgabe 8/2018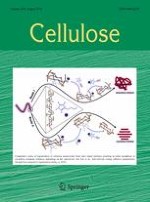 A facile approach to prepare biomass-derived activated carbon hollow fibers from wood waste as high-performance supercapacitor electrodes
Zeitschrift:
Autoren:

Xiaojun Ma, Chenfeng Ding, Dongna Li, Mingyue Wu, Yunhua Yu
Wichtige Hinweise
Xiaojun Ma and Chenfeng Ding have contributed equally to this work.
Abstract
In this paper, several activated carbon hollow fibers (ACHF) with high surface area of ~ 1873 m2 g−1 were prepared from wood waste by liquefaction, half-curing and one-step activation methods. Scanning electron microscopy, Nitrogen gas adsorption–desorption and X-ray photoelectron spectroscopy have been used to characterize the morphology, the structure and the composition of ACHF. Results show added wood charcoal had a noticeable influence on the pore structure and electrochemical performance of ACHF. Electrochemical investigation measurements show that ACHF exhibit an outstanding specific capacitance (295 F g−1 at 0.5 A g−1), excellent rate performance (73.8% capacitance retention at 20 A g−1), high energy density (7.8 W h kg−1) and high capacitance retention of 99.5% over 10,000 charge–discharge cycles. Moreover, the multiple heteroatoms (N, P) from wood liquefaction have a synergistic effect on electrochemical properties of ACHF. These results indicate the present method is promising for the preparation of biomass-derived activated carbon hollow fibers from agricultural and forestry waste in the application of supercapacitors.
Graphical Abstract
×