01.08.2014 | Ausgabe 16/2014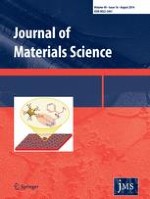 A facile approach to synthesize rose-like ZnO/reduced graphene oxide composite: fluorescence and photocatalytic properties
Zeitschrift:
Autoren:

Yichao Gong, Changwu Zou, Yadong Yao, Weidong Fu, Meng Wang, Guangfu Yin, Zhongbing Huang, Xiaoming Liao, Xianchun Chen
Abstract
Rose-like ZnO/reduced graphene oxide composites are synthesized by a simple, scalable, and facile route without using any surfactants. The well-defined ZnO microstructure has a hexagonal hierarchical rose-like architecture, which is composed of densely packed uniform thin flakes. The
N
,
N
-dimethylformamide/water system employed here acts as an organic solvent as well as a reagent, and two competing reactions give rise to the formation of the hexagonal hierarchical rose-like ZnO architecture. Compared with bare ZnO, the rose-like ZnO/reduced graphene oxide composite displays the fluorescence quenching property. Finally, the as-prepared products possess considerable photocatalytic property under visible light for the degradation of methylene blue.