07.06.2018 | Energy materials | Ausgabe 17/2018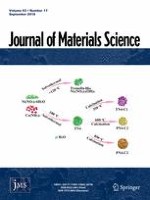 A facile electrochemical–hydrothermal synthesis and characterization of zinc oxide hierarchical structure for dye sensitized solar cell applications
Zeitschrift:
Autoren:

T. Marimuthu, N. Anandhan, R. Thangamuthu
Wichtige Hinweise
Electronic supplementary material
Abstract
A facile hierarchical microstructured ZnO thin films consisting of microspheres and nanorods were deposited on zinc oxide–titanium oxide (ZnO–TiO
2
) seeded FTO substrate by applying a two-step chemical techniques. At first, ZnO microsphere was electrochemically deposited on ZnO–TiO
2
seeded FTO substrate by varying the deposition potentials in the range of − 1.1 to − 1.3 V. Followed by, the nanorods were hydrothermally grown on the optimized ZnO microsphere (ZnO electrodeposited at − 1.3 V). SEM displays the ZnO microsphere and nanorod for films deposited by electrodeposition of − 1.3 and hydrothermal technique, respectively. The suppression of ZnO growth along the (0001) orientation is noticed due to electrostatic absorption of citrate ions. TEM images confirm the hexagonal structure of microstructures and nanorods oriented along the lateral and c-axis growth direction, respectively. The appearance of high-intensity XRD peaks, Raman
E
2
(high) mode and UV emission confirms the hierarchical structure possessing a higher crystalline nature with lesser atomic defects. The hierarchical structure has high dye absorption, light absorption and scattering ability. The efficiency (
η
) of dye sensitized solar cells (DSSCs) consisting microsphere and hierarchical structures is found to be 3.13 and 4.64%, respectively. The DSSC consisting of hierarchical structure has the higher charge transfer recombination resistance (
R
rec
) and electron lifetime (
τ
r
) than other DSSC.