28.09.2019 | Methodologies and Application | Ausgabe 10/2020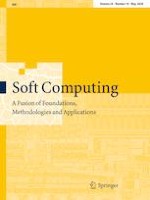 A fault diagnosis model of marine diesel engine cylinder based on modified genetic algorithm and multilayer perceptron
Zeitschrift:
Autoren:

Liangsheng Hou, Jiaqi Zou, Changjiang Du, Jundong Zhang
Wichtige Hinweise
Publisher's Note
Springer Nature remains neutral with regard to jurisdictional claims in published maps and institutional affiliations.
Abstract
The cylinder of marine diesel engine, as the power supply to the marine diesel engine, would lead dramatically damage to the engine once faults occurred. To avoid the situation, we develop a novel combinational approach using an improved genetic algorithm (GA) and multilayer perceptron (MLP). Firstly, chaos theory is carried out on the standard GA to prevent premature convergence. The improvements on the GA consist of population initialized by chaotic mapping, chaotic crossover, and chaotic mutation operator. Secondly, the Levenberg–Marquardt algorithm is used to train the MLP to accelerate the convergence speed of the MLP. Thirdly, the improved GA is used to optimize the initial weights and thresholds of MLP to further improve the performance of MLP. Finally, the proposed model is applied to the cylinder of a marine diesel engine for fault diagnosis. Compared with traditional approaches, the proposed method obtains more ideal solutions. Results demonstrate that the proposed method could effectively identify ten common faults of the marine diesel engine cylinder, and the average correct ratio of fault diagnosis can exceed 95%.