2006 | OriginalPaper | Buchkapitel
A Finite Element Study of Strain Distribution in an Instrumented Knee Prosthesis for Full Force Measurement in Vivo.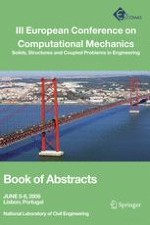 Erstes Kapitel lesen
Autoren: Rui Guimaraes, Stephen J G Taylor, Gordon W Blunn
Verlag: Springer Netherlands
Data on forces applied across joints in the body are needed to know how to better design and test implants, define rehabilitation regimes, and provide basic data for other biomechanics studies. The resultant knee load vector will vary in vivo in magnitude and position due to the joint laxity: the knee has six degrees of freedom and very irregular geometry. The overall aim is to develop an instrumented knee implant that can measure the full force vector (compression, anterio-posterior and medio-lateral shear forces) applied across each compartment of the tibio-femoral joint during activity [
1
]. Each tibial compartment was hollowed out to allow insertion of electronics and strain gauges, and was enclosed by a solid rim. This rim, although providing good mechanical support, had the effect of cross-coupling the strains around the periphery.
A finite element model of the modified tibial tray was developed in order to study the behaviour of strains to applied loads and to determine the optimum locations and angles for the strain gauges in vivo. In this model, single and combination loads were applied to one compartment, inside the gauged periphery, using a modified plastic liner. Twelve strain gauge half bridges (24 sites) were simulated around the compartment periphery, and 3D strains for each found from the FEA. With individually applied axial and shear forces, the strain sensitivity at each of these 24 sites was found for a small range of positions, forming an important base dataset. This dataset was used to develop methods of transforming the measured strains back to the applied loads. The dataset shows a nonlinear, but gentle, variation of load sensitivity with position. Therefore it is possible to use multidimensional interpolation to extend the dataset with little loss of accuracy. With this extended dataset, algorithms were tested to assess how accurately the loads and positions could be calculated. The general procedure was to derive force/strain sensitivity matrices, using the 12 half bridge strains, for many different calibration positions, and to use a least squares minimisation method to determine the closest match between calibration and input data. This technique quickly iterates to the correct positions and axial force if the shear forces are low, and the remaining challenge is to predict the positions and shear forces together, and this is now the focus of our analysis. Using FEA it was possible to verify the design of the implant structurally and devise methods for determining the axial force and both antero-posterior (A-P) and medio-lateral (M-L) shear force magnitudes, and the point of application of those forces in each separate knee compartment.