2018 | OriginalPaper | Buchkapitel
9. A Fragmented but Strengthened Civil Society?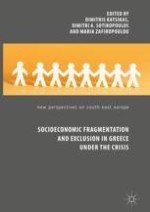 Erstes Kapitel lesen
Autor: Dimitri A. Sotiropoulos
Abstract
In this chapter, the author claims that the rebirth of civil society in Greece may have occurred but that traditional patterns of fragmentation are still visible. His analysis is based on a collection of data from the press and secondary sources. He argues that before the crisis erupted, civic associations were frequently either permeated by political parties or monitored by and financially dependent on the state. With the exception of selected strong professional associations and public-sector unions, civil society was weak and fragmented. After the start of the crisis, unions and associations struggled to preserve the living standards of middle- and low-class Greeks but also to protect their own narrowly defined labour market and welfare niches. Informal social movements challenged government policies, while self-help groups and social solidarity networks provided social assistance and social services to the poor and the socially excluded. However, there emerged also other, often violent, movements which challenged institutions of parliamentary democracy, such as political parties and elected governments. Thus, civil society was strengthened but overall the record of its invigoration was mixed.