2020 | OriginalPaper | Buchkapitel
8. A Gas-Mechanical Coupled Hoek-Brown Criterion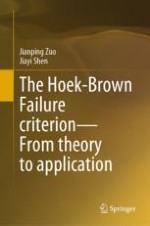 Erstes Kapitel lesen
Autoren: Jianping Zuo, Jiayi Shen
Verlag: Springer Singapore
Abstract
A gas-mechanical coupled constitutive equation is developed for coal containing gas or CO
2
to predict the failure behavior based on fracture mechanics theory. A novel parameter of
\( \left| {\partial \cos \alpha /\partial \sum_{1} } \right| \)
has been selected as the failure characteristic parameter for coal containing gas. In addition, a closed-form gas-mechanical coupled constitutive equation is derived. The effects of the coal friction coefficient
f
, the gas pore pressure
p
, Biot's coefficient
\( \chi \)
and the fracture parameter
\( \kappa \)
have been coupled in the proposed model. Without considering the effect of pore pressure, the equation wonderfully coincides with the original Hoek-Brown Empirical Strength Criterion. Sensitivity analysis indicates that under a determining confining pressure, the failure stress is an increasing function of
f
, in contrast, a decreasing function of
p
,
\( \chi \)
and
\( \kappa \)
. Due to the low tensile strength of coal, the effects of different fracture parameter
\( \kappa \)
from different fracture criterions can nearly be ignored when the pore pressure
p
is high. At last, the proposed gas-mechanical coupled model is verified, which is in good agreement with the existing experimental data.