2019 | OriginalPaper | Buchkapitel
3. A Government-Dominated Financial System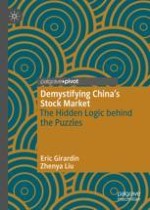 Erstes Kapitel lesen
Autoren: Eric Girardin, Zhenya Liu
Abstract
The design and development of a financial system with Chinese characteristics have been dominated by the government since the 1980s. The creation of the stock market is only one stage in that process. Three major features of such government domination are emphasized in this chapter.
First, we will review the difficulties raised when trying to fit a stock market into a socialist market economy. We will consider the motivations behind the transformation in the channels of financing of the economy. While the initial move, in the mid-1980s, involved a shift of the financing of state-owned enterprises from government subsidies to bank-intermediated financing, the subsequent move, in the early 1990s, marked a partial shift to direct financing, with the creation of the stock market.
Second, we will present the major stages of development of the stock market, including the crucial step of Chinese-style privatization, involving the privatization of small- and medium-sized SOEs, sometimes with insider privatization, and the listing of large SOEs, leading much later to the split-share reform bringing the float closer to capitalization.
Third, the heavy involvement of the government is strongly felt in new market creation, the creation and control of institutional investors and intermediaries, as well as the design and monitoring of the functioning of the market. External financial liberalization has been only very limited and gradual, relying on tightly controlled idiosyncratic schemes.