01.10.2016 | Original Article | Ausgabe 7/2016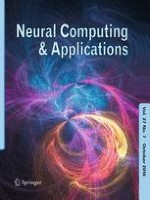 A heuristic supervised Euclidean data difference dimension reduction for KNN classifier and its application to visual place classification
Zeitschrift:
Autoren:

Hesam Omranpour, Saeed Shiry Ghidary
Abstract
In this paper, we propose a novel supervised dimension reduction algorithm based on
K
-nearest neighbor (KNN) classifier. The proposed algorithm reduces the dimension of data in order to improve the accuracy of the KNN classification. This heuristic algorithm proposes independent dimensions which decrease Euclidean distance of a sample data and its
K
-nearest within-class neighbors and increase Euclidean distance of that sample and its
M
-nearest between-class neighbors. This algorithm is a linear dimension reduction algorithm which produces a mapping matrix for projecting data into low dimension. The dimension reduction step is followed by a KNN classifier. Therefore, it is applicable for high-dimensional multiclass classification. Experiments with artificial data such as Helix and Twin-peaks show ability of the algorithm for data visualization. This algorithm is compared with state-of-the-art algorithms in classification of eight different multiclass data sets from UCI collection. Simulation results have shown that the proposed algorithm outperforms the existing algorithms. Visual place classification is an important problem for intelligent mobile robots which not only deals with high-dimensional data but also has to solve a multiclass classification problem. A proper dimension reduction method is usually needed to decrease computation and memory complexity of algorithms in large environments. Therefore, our method is very well suited for this problem. We extract color histogram of omnidirectional camera images as primary features, reduce the features into a low-dimensional space and apply a KNN classifier. Results of experiments on five real data sets showed superiority of the proposed algorithm against others.