2019 | OriginalPaper | Buchkapitel
A Human Postures Inertial Tracking System for Ergonomic Assessments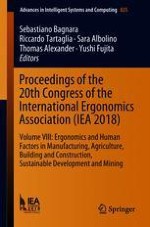 Erstes Kapitel lesen
Autoren: Francesco Caputo, Alessandro Greco, Egidio D'Amato, Immacolata Notaro, Marco Lo Sardo, Stefania Spada, Lidia Ghibaudo
Abstract
Since the early development for health purposes in 1950s, motion tracking systems have been strongly developed for several applications. Nowadays, using Micro Electro-Mechanics Systems (MEMS) technologies, these systems have become compact and light, being popular for several applications. Looking at the manufacturing industry, such as the automotive one, ergonomic postural analyses are a key step in the workplaces design and motion tracking systems represent fundamental tools to provide data about postures of workers while carrying out working tasks, in order to assess the critical issues according to ISO 11226 standard.
The aim of this work is to present an experimental wearable inertial motion tracking system, developed at the Dept. of Engineering of the University of Campania "Luigi Vanvitelli" in collaboration with Linup S.r.l., composed by several low-cost inertial measurement units (IMU).
The system allows to estimate the orientation of selected human body segments and to analyze the postures assumed during the working tasks. To increase the flexibility of use, the system is highly modular: it's composed by 4 independent modules in full-body configuration, each one made of 3 or 4 inertial units.
In this paper, the overall system is presented, supported by several test cases, carried out in Fiat Chrysler Automobile (FCA) assembly lines, to test the system reliability in industrial environments. Furthermore, an automatic posture analysis code is presented to evaluate the postural critical issue of the workplaces.