Erschienen in: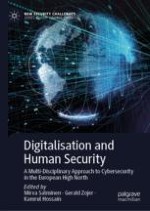 2020 | OriginalPaper | Buchkapitel
1. A Human Security Perspective on Cybersecurity in the European High North
Abstract
Digitalisation is rapidly changing both societies and human activities worldwide, including the European High North, that is, in the northernmost parts of Finland, Sweden and Norway, as well as in north-western Russia. National and regional policies, as well as commercial endeavours, have been designed to advance digital development and/or to mitigate its harmful effects, although only limited attention has been paid to the interests, needs and fears of the people and communities experiencing this development. The primary aim of digitalisation and cybersecurity efforts should be the advancement of human wellbeing through a well-contextualised, human-centric approach. Alongside a human security perspective on cybersecurity this chapter introduces the content of the book.