01.03.2021 | Ausgabe 3/2021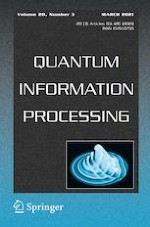 A hybrid classical-quantum approach for multi-class classification
Zeitschrift:
Autoren:

Avinash Chalumuri, Raghavendra Kune, B. S. Manoj
Wichtige Hinweise
Publisher's Note
Springer Nature remains neutral with regard to jurisdictional claims in published maps and institutional affiliations.
Abstract
Quantum machine learning recently gained prominence due to the computational ability of quantum computers in solving machine learning problems that are intractable on a classical computer. However, achieving a quantum advantage on present-day quantum computers remains an open challenge. In this work, we primarily focus on solving machine learning problems using a hybrid model based on both quantum and classical computers together for the classification task. We propose the quantum multi-class classifier (QMCC) as a variational circuit with a hybrid classical-quantum approach using quantum mechanical properties such as superposition and entanglement. A unitary operation on a single qubit for the state preparation is designed and also demonstrated using a real quantum computer on the IBMQX platform. The entire variational circuit for the classification task is implemented on a quantum simulator. We performed our quantum simulations on three benchmark datasets:
Iris dataset
,
Banknote Authentication (BNA) dataset
, and
Wireless Indoor Localization (WIL) dataset
for machine learning algorithms. Our simulation results show that the proposed QMCC model classified
Iris dataset
with an accuracy of 92.10%,
BNA dataset
with an accuracy of 89.50%, and
WIL dataset
with an accuracy of 91.73%. The proposed model can also be extended to multiple class classifiers.