01.09.2015 | Ausgabe 3/2015 Open Access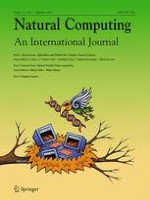 A hybrid method for inversion of 3D DC resistivity logging measurements
Zeitschrift:
Autoren:

Ewa Gajda-Zagórska, Robert Schaefer, Maciej Smołka, Maciej Paszyński, David Pardo
Abstract
This paper focuses on the application of
hp
hierarchic genetic strategy (
hp
–HGS) for solution of a challenging problem, the inversion of 3D direct current (DC) resistivity logging measurements. The problem under consideration has been formulated as the global optimization one, for which the objective function (misfit between computed and reference data) exhibits multiple minima. In this paper, we consider the extension of the
hp
–HGS strategy, namely we couple the
hp
–HGS algorithm with a gradient based optimization method for a local search. Forward simulations are performed with a self-adaptive
hp
finite element method,
hp
–FEM. The computational cost of misfit evaluation by
hp
–FEM depends strongly on the assumed accuracy. This accuracy is adapted to the tree of populations generated by the
hp
–HGS algorithm, which makes the global phase significantly cheaper. Moreover, tree structure of demes as well as branch reduction and conditional sprouting mechanism reduces the number of expensive local searches up to the number of minima to be recognized. The common (direct and inverse) accuracy control, crucial for the
hp
–HGS efficiency, has been motivated by precise mathematical considerations. Numerical results demonstrate the suitability of the proposed method for the inversion of 3D DC resistivity logging measurements.