06.05.2019 | Ausgabe 3/2019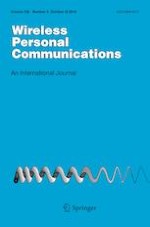 A Hyper-Exponential Factor-Based Semi-Markov Prediction Mechanism for Selfish Rendezvous Nodes in MANETs
Zeitschrift:
Autoren:

Sengathir Janakiraman, Bipin Bihari Jayasingh
Wichtige Hinweise
Publisher's Note
Springer Nature remains neutral with regard to jurisdictional claims in published maps and institutional affiliations.
Abstract
In multi-hop wireless network like mobile ad hoc network (MANET), co-operation between mobile nodes under group communication is inevitable for ensuring reliable network connectivity as they lack a centralized point of control. In such multicasting network, rendezvous point acts as a trusted intermediary and plays a vital role of relaying packets between the downstream and upstream nodes for ensuring reliable data dissemination. The selfish misbehaviour of core group leader node degrades the performance of the network by intentionally dropping a significant amount of packets. Most of the existing mitigation techniques contributed for handling rendezvous point misbehaviour relies on watchdog, path rater and Bayesian filter for detection as they are capable in elucidating past evidences. But these detection components face certain limitations in quantifying the reputation of mobile nodes. In this paper, hyper-exponential factor-based semi-Markov prediction mechanism (HEFSPM) is formulated for estimating the likely probability of mobile nodes that has the possibility of being compromised by rendezvous point misbehaviour. HEFSPM uses a Semi-Markov process for forecasting the probability as the failure rendezvous point node cannot be rehabilitated into a co-operative node Further, Semi-Markov is highly efficient when they quantify the reputation value of nodes based on their anticipated future behaviours. Simulation results portray that HEFSPM is predominant in handling rendezvous point misbehaviour and improves packet delivery ratio and throughput by 24% and 22% superior to the considered baseline mitigation approaches. An analytical validation of HEFSPM is also performed using the Rayleigh distribution for proving its efficacy in forecasting nodes' misbehaviour.