01.03.2015 | Original Paper | Ausgabe 1-2/2015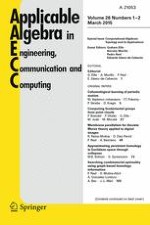 \(A_\infty \)

-persistence
Autoren:

Francisco Belchí, Aniceto Murillo
Wichtige Hinweise
This work has been supported by the
Ministerio de Educación y Ciencia
Grants MTM2010-18089 and MTM2013-41768-P, by the Junta de Andalucía Grant FQM-213 and by the IMA of the University of Minnesota.
Abstract
We introduce and study
\(A_\infty \)
-persistence on the homology, with coefficients in a field, of a filtration of topological spaces. This is a family, one for each
\(n\ge 1\)
, of homological invariants which provide information not readily available by the (persistent) Betti numbers of the given filtration. This may help to detect noise, not just in the simplicial structure of the filtration but in further geometrical properties in which the higher codiagonals of the
\(A_\infty \)
-structure are translated. Based in the classification of zigzag modules, a characterization of the
\(A_\infty \)
-persistence in terms of its associated barcode is given.