13.07.2021 | Original Research Article | Ausgabe 10/2021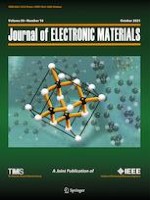 A Junctionless Silicon Carbide Transistor for Harsh Environment Applications
Zeitschrift:
Autoren:

Ratul K. Baruah, Bikram K. Mahajan, Yen-Pu Chen, Roy P. Paily
Wichtige Hinweise
R. K. Baruah and B. K. Mahajan have contributed equally to this work.
Publisher's Note
Springer Nature remains neutral with regard to jurisdictional claims in published maps and institutional affiliations.
Abstract
Silicon carbide (SiC) is the material of choice for high-temperature, high-voltage, and other harsh environment applications in high-energy physics, outer space, etc., because of its high critical electric field and radiation tolerance. In this work, single- and double-gate junctionless transistors (SGJLT, DGJLT) are studied extensively using TCAD device simulations, taking SiC as a substrate material. Junctionless transistors (JLTs) offer better high-temperature performances compared to a conventional metal-oxide-semiconductor field-effect transistor (MOSFET). To investigate the temperature dependence of the drain current (
I
D
), the intrinsic gain is studied for the devices under high-temperature conditions. Unlike a conventional MOSFET, at the zero temperature coefficient (ZTC) point, output current slightly increases with temperature for a JLT, which is beneficial in electronics applications at high temperatures. After the ZTC point, the output current decreases with an increase in temperature, similar to a conventional MOSFET. Taking the advantages of high-performance JLT, SiC device's compatibility with high temperatures and high voltages, a boost converter has been designed. It was shown that efficiencies as high as 80% can be achieved even at temperatures of 380K.