2017 | OriginalPaper | Buchkapitel
6. A Kaleckian Model for Economy-Environment Analysis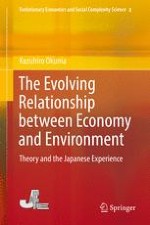 Erstes Kapitel lesen
Autor: Kazuhiro Okuma
Verlag: Springer Singapore
Abstract
In this chapter, we develop a model for analyzing the economic impact of environmental measures by incorporating environmental costs into the Kaleckian model. The model is composed of equations explaining profit rate, savings, investment, and import and export by using variables such as capacity utilization rate, profit share, and environmental-measure cost. By analyzing this model with a focus on changes in capacity utilization and profit rate, it is shown that an increase in environmental-measure cost can lead to higher capacity utilization and profit rates under certain conditions.
Strengthened environmental measures, while raising production costs, alter the I-S balance and raise capacity utilization. Thus, they may raise profit rate when investment is sensitive to capacity utilization and importation is not so sensitive to it. Moreover, environmental measures have the effect of reducing imports of natural resources, inducing investment in environmental equipment and facilities in the short term, and strengthening export competitiveness by encouraging innovations in the mid- to long-term. These combined effects enlarge the possibility of raising capacity utilization and profit rates.
We present these effects in the model and identify conditions for them to raise profit rates, which formally explains the mechanism and conditions of the "paradox of costs" for environmental measures as well as Green Growth.