2016 | OriginalPaper | Buchkapitel
A Lock and Key Share (2,
m

,

n

) Random Grid Visual Secret Sharing Scheme with XOR and OR Decryptions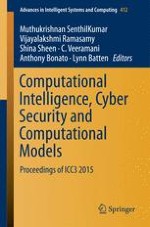 Erstes Kapitel lesen
Autoren: T. Farzin Ahammed, Sulaiman Mundekkattil
Verlag: Springer Singapore
Abstract
Security of secret sharing schemes has become a significant issue as secret communication is now being widely used. Random grid based visual secret sharing (RG-VSS) schemes has drawn greater attention taking into consideration its own specific advantages. A (2,
n
) RG-VSS produces
n
shares with equal priorities and any of those two shares can be combined to restore the original image. The proposed system boosts the security of (2,
n
) RG-VSS by integrating a lock and key share concept. A lock and key share (2,
m, n
) scheme generates
m
lock and
n
key shares, and retrieval of original secret is possible if and only if one share is selected from the set of
m
lock shares and other from the set of
n
key shares. Both OR-based and XOR-based decryptions are implemented. Further, necessary theoretical proofs are supplied for the correctness of the implementation.