23.05.2017 | Ausgabe 2/2017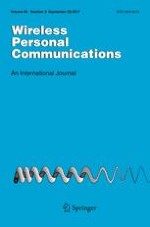 A Low Complexity Modified SLM and Companding based PAPR Reduction in Localized OFDMA
Zeitschrift:
Autoren:

V. Sudha, M. Syamkumar, D. Sriram Kumar
Abstract
In this paper, a low complexity modified selective mapping (SLM) and companding based PAPR reduction scheme has been proposed to reduce the peak-to-average power ratio (PAPR) as well as computational complexity in localized orthogonal frequency division multiple access (OFDMA) system. In long term evolution (LTE) downlink, OFDMA has been employed as a multiple access technique and uplink uses single carrier frequency division multiple access. OFDMA systems preserve all the advantages and disadvantages of OFDM. One of the major drawbacks in OFDMA is high PAPR. In practice, SLM algorithms are most widely used to reduce PAPR due to its simple structure. However, it suffers by more computational complexity. To reduce complexity, in this paper three low complexity SLM structures are considered. But, PAPR reduction is poorer than conventional SLM (C-SLM). Therefore, to further reduce PAPR, μ-law companding scheme is employed along with low complexity SLM in L-OFDMA. To generate
v
candidate signal, first scheme employs one IFFT, scheme II uses two IFFT blocks and third proposed method uses (
v
/2 + 1) IFFT blocks. In the first two proposed methods, the time domain sequences available at the output of IFFTs are convolved with perfect sequences. In the third method, input data sequence is partitioned into two subblocks, first half of the input sequence is convolved with perfect sequence and C-SLM is applied to second half of the input data sequence. μ-law companding is a non-linear companding transform which increases the average power of transmitting signals, thereby reducing PAPR of OFDM signal. The simulation results show that, the proposed methods are well reducing PAPR with less computational complexity, so it is suitable for LTE downlink.