01.10.2013 | Ausgabe 4/2013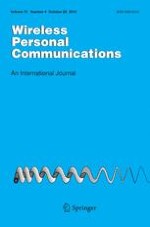 A MAC-Layer Retransmission Technique for Collided Packets in Wireless Sensor Network
Zeitschrift:
Autoren:

Buddha Singh, D. K. Lobiyal
Abstract
Efficient transmission of data for reducing collisions in sensor network is the most significant way of enhancing the network performance and achieving lifetime maximization. In this paper, we have proposed a novel data retransmission strategy for unsuccessfully transmitted packets in case of uniform and variable data rate applications. For applications with uniform data rate, a fixed number of retransmission attempts are assigned to each packet and the retransmission probability gradually reduces according to 1-Truncated Geometric Distribution after every collision. For variable data rate applications with normalized data rate
\(N\)
, our strategy reduces the priority of the collided packets using
\(N\)
-Truncated Geometric Distribution. After fixed unsuccessful attempts with first priority, the packets are retransmitted with reduced priority so as to avoid engaging of network resources for long duration. Moreover, our both strategies aim to improve the usual retransmission mechanism of Standard ZigBee/IEEE 802.15.4 by replacing it with our innovated scheme. The simulation shows that our proposed retransmission technique outperforms the Standard ZigBee with GTS in terms of average energy consumption, network throughput, average number of retransmission attempts and network performance.