2018 | OriginalPaper | Buchkapitel
A Machine Learning Approach to Predict Instrument Bending in Stereotactic Neurosurgery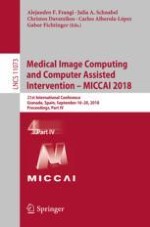 Erstes Kapitel lesen
Autoren: Alejandro Granados, Matteo Mancini, Sjoerd B. Vos, Oeslle Lucena, Vejay Vakharia, Roman Rodionov, Anna Miserocchi, Andrew W. McEvoy, John S. Duncan, Rachel Sparks, Sébastien Ourselin
Abstract
The accurate implantation of stereo-electroencephalography (SEEG) electrodes is crucial for localising the seizure onset zone in patients with refractory epilepsy. Electrode placement may differ from planning due to instrument deflection during surgical insertion. We present a regression-based model to predict instrument bending using image features extracted from structural and diffusion images. We compare three machine learning approaches:
Random Forest
,
Feed-Forward Neural Network
and
Long Short-Term Memory
on accuracy in predicting global instrument bending in the context of SEEG implantation. We segment electrodes from post-implantation CT scans and interpolate position at 1 mm intervals along the trajectory. Electrodes are modelled as elastic rods to quantify 3 degree-of-freedom (DOF) bending using Darboux vectors. We train our models to predict instrument bending from image features. We then iteratively infer instrument positions from the predicted bending. In 32 SEEG post-implantation cases we were able to predict trajectory position with a MAE of 0.49 mm using RF. Comparatively a FFNN had MAE of 0.71 mm and LSTM had a MAE of 0.93 mm.