01.12.2012 | Ausgabe 12/2012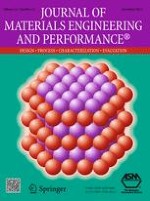 A Methodology for the Development, Production, and Validation of R-Phase Actuators
Zeitschrift:
Autoren:

K. Lygin, S. Langbein, P. Labenda, T. Sadek
Wichtige Hinweise
This article is an invited paper selected from presentations at the International Conference on Shape Memory and Superelastic Technologies 2011, held November 6-9, 2011, in Hong Kong, China, and has been expanded from the original presentation.
Abstract
The R-phase transformation has interesting features with potential for applications that need a small temperature hysteresis and good dynamic behavior, such as thermostatic valves. The aim of this article is to show the development, production, and validation process of different R-phase shape memory alloy (SMA) actuators, starting with a semi-finished wire and concluding with a finalized R-phase spring actuator. This study focuses mainly on the calculation, the thermomechanical treatment, and experimental validation of the designed actuators. The first section of this article presents a mathematical dimensioning tool for different R-phase actuators, especially for extension SMA springs. The second part shows specific parameters on the R-phase transformation during thermomechanical treatment. The parameters Ni-content and annealing temperature are being varied to achieve different transformation behavior of the R-phase. The third section relates to the production process of calculated SMA spring actuators based on the R-phase transformation. In the fourth and last section of the article, the performance of selected actuators will be characterized in functional tests, and the results will be compared with the calculated results of the mathematical model.