01.07.2010 | Technical Paper | Ausgabe 7/2010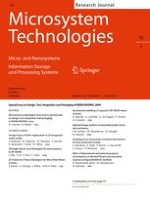 A microvalve for hybrid microfluidic systems
Zeitschrift:
Autoren:

G. Simone, G. Perozziello, G. Sardella, I. Disegna, S. Tori, N. Manaresi, G. Medoro
Wichtige Hinweise
G. Simone and G. Perozziello contributed equally.
Abstract
A hybrid valve for lab on chip applications is presented. The valve is assembled by bonding poly (methyl methacrylate), PMMA, and silicon-based elastomers. The process used to promote the hybrid bonding includes the deposition of an organosilane (TMSPM) on the thermoplastic polymer, PMMA to interface PMMA and elastomers. For this study, a membrane in ELASTOSIL® is bonded in correspondence of the end of two microfluidic channels of a fabricated PMMA microfluidic chip. Prior the bonding, a plasma etching process has been used to remove the TMSPM in a confined circular area. This process made possible to bond selectively the edge of a membrane leaving free to move its central part. Actuating the membrane with an external positive pressure or vacuum is possible, respectively, to obstruct or to connect the microfluidic channels. The microvalve may be simply integrated in microfluidic devices and permits the control of microvolumes of fluid in processes such as transport, separation, and mixing. The deposition of the TMSPM, the bonding of the valve and its actuation has been characterized and tested. The flow rate control of liquids through the valve has been characterized. The results have been discussed and commented. The valve can stand up to 14 psi without showing leakages.