01.12.2008 | Ausgabe 6/2008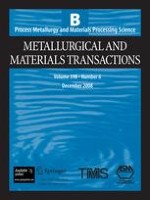 A Mixed Integer Programming Model for the Multiperiod Scheduling Problem of Blending Zinc-Bearing Materials to Minimize Setups in the Hydrometallurgical Process
Zeitschrift:
Autoren:

Seong-in Kim, Junghee Han, Youngho Lee, Bo-Kyung Shim, Ibrahim A. Hameed
Wichtige Hinweise
Manuscript submitted May 21, 2008.
Abstract
The blending procedure, selecting from various kinds of zinc-bearing materials containing different contents of components and determining their mixing ratios, is the first step in the hydrometallurgical zinc process. Whenever a setup takes place to change the selection of materials or their ratios in the blending process, the setup itself and the adjustments required in the subsequent processes incur cost, time, and effort. Reducing the number of setups by keeping the blending ratios of the selected materials for the longest possible period is critical for consistent operation and processing and, thus, for assuring the quality of the final zinc product. In this article, we formulate a mixed integer programming model for the blending schedule that minimizes the number of setups over a planning horizon, given the constraints on the contents of components and the daily schedules of material supply and zinc production. Also, we propose an efficient heuristic, which provides a solution of good quality within reasonable time bounds. The applicability and efficiency of the model along with its heuristic are verified through simulation experiments as well as the model's application to a real zinc refinery.