01.12.2008 | Ausgabe 6/2008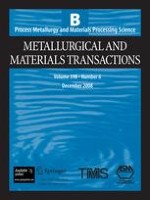 A Model for Predicting the Austenite Grain Size at the Surface of Continuously-Cast Slabs
Zeitschrift:
Autoren:

Christian Bernhard, Jürgen Reiter, Hubert Presslinger
Wichtige Hinweise
Manuscript submitted October 9, 2006.
Abstract
During the continuous-casting process, retarded cooling of the strand surface below oscillation marks and surface depressions results in the formation of coarse austenite grains. These coarse grains have proven to dramatically reduce the ductility of steel within the second ductility trough, and thus increase the risk of surface crack formation. In addition to the thermal history the composition of the steel, in particular the content of carbon and precipitation-forming elements, plays a decisive role in the development of the austenite grain size. The present work addresses the development and validation of an experimental and numerical model for predicting the austenite grain size in the continuous-casting process. In a first step, the previous austenite grain size on the surface of slabs was determined by metallographic examinations for several slabs with various carbon content. Next, a solidification experiment was adjusted in order to simulate the cooling conditions in the mold of a slab caster, but also to suppress the precipitation of nitrides and carbo-nitrides by subsequent accelerated cooling. Thus, it was possible to study the influence of steel composition on austenite grain growth at temperatures close to the solidus temperature, unaffected by precipitates. The results of both the plant and laboratory experiments point to a maximum austenite grain size with a carbon content of approximately 0.17 mass pct.
The parameters of a grain size prediction model were fitted to the results of the experiment. The resultant model was coupled with a precipitation model and then applied to the slab casting process. The measured and calculated grain size values at the surface and immediately below the surface of the slabs agree very closely. The model was finally applied to calculate the grain growth in the center of a virtual oscillation mark under simplified assumptions. Although only the surface temperature in the mold diverges significantly from the original solution, the difference of the initial cooling conditions results in an increase of the final grain size by up to 40 pct.